Legends are associated with great accords in the history.. as a rare combination, a legendary brand is associated with an energy drink that had rather a humble beginning. One of the most recognizable and omnipresent brand of all energy drinks across the world is 'Red Bull'. More than 4.5 billion cans of Red Bull were sold through 167 countries during 2014 makes this energy drink the top player in its genre. Let's learn more about the legend behind the two bulls who never give up pushing ahead with enormous amount of energies. The headquarters of the company, Red Bull GmbH, is based in Fuschl, Austria in the European continent. 
In the mid of 1980s, an Austrian toothpaste dealer, Dietrich Mateschitz, made a trip to the Far East. While in flight, he got really tired and was suffering from jet-lag. (Jet-lag is a sleep disorder faced by air-travelers when they travel from one time zone to another.) Upon he reaching the destination, a local toothpaste distributor in Thailand, offered him a drink, saying it as a Thai tonic, that helps people stay awake at night.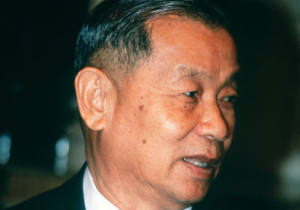 The name of the drink was 'Krating Daeng', which literally means 'red wild ox', produced by a pharmaceutical company owned by Chaleo Yoovidhya in Thailand. After trying out the drink, Dietrich was surprised that he was instantly out of the jet-lag! This experience gave wings to his imagination. He knew there was a huge potential in this tonic and it could be his million dollar ticket to success. At the age of 40, he joined hands with the Thai inventor, Chaleo Yoovidhya as co-founder, and established a new company to launch a new product.                                                                                                                                                                                     Chaleo Yoovidhya>  
The Origin of Red Bull: Krating Daeng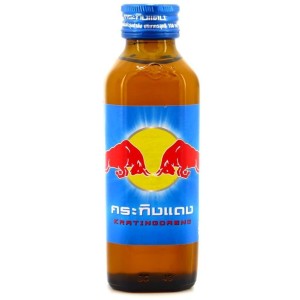 The sweet beverage that Dietrich tried in Thailand was branded as 'Krating Daeng'. It was supposed to be marketed for farmers, construction workers and truckers in Thailand who used to rigorously work hard. The sweet concoction contained caffeine and taurine that helped one to stay awake while working for long hours. Dietrich brought the drink to Europe and he reformulated it to a more 'berry' flavor, to be more palatable as a European taste.
1987: Tough road for a cool one
It was not an easy task for Dietrich to start a new company in his hometown of Austria. He has to struggle up and wait for three years to get a license to sell his new product. And, once it got introduced in the market during 1987, people of Austria didn't like the taste as they found it as too sweetened. That backfired the entire business strategy at first in it's home-market. Even after loosing one million dollars in a span of initial two years, this man still believed that his product would be successful. He then decided to market in UK, Hungary and Germany and believed that Austria's market is just small in comparison.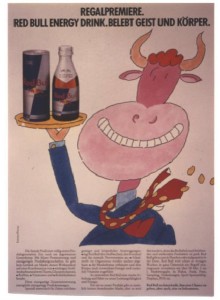 < the 1st advertisement by Red Bull
The print-advertisement was one of the medium the brand tooled to communicate with it's potential consumers. The first commercial advertisement on introduction of Red Bull astonished the audience by saying, "Red Bull, so awesome that the polka dots will fly off your tie".
Finally, on 1st April 1987, the first Red Bull energy drink was sold for the very first time in Austria. Dietrich not only marketed a completely new product, but also originated a new product category- "Energy Drink"! The company used the English translation of the Thai brand-name 'Krating Daeng' as the name of his new product, that is, "Red Bull". The trademark "Red Bull" was thus formulated.
Innovative marketing worked!
As the product did not work well at it's first go, the firm and its founder went through a tough time, there was not enough money left for marketing. But Dietrich had a plan in mind. He felt buzz marketing only can help. He went in all the possible ways to encourage students drive Red Bull labelled cars, wear Red Bull tops and offered free samples to college fests and youth parties. It sponsored art, creativity, sports, music and dance events to carve a space in the potential prospects' mind. 
The bulls logo, Why is it unique?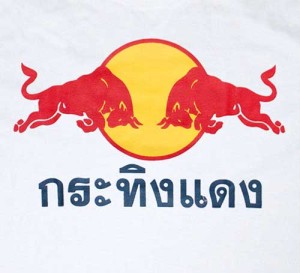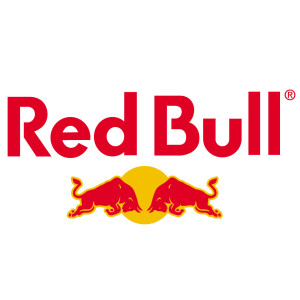 The origin of the Red Bull brand design goes back to the original Thai design of 'Krating Daeng' brand.
So, what's unique about the Red Bull logo? The design has two thick-necked herculean crimson bulls. They are placed in opposing charge against a yellow sun. The strong, muscular red bulls certainly represent enormous amount of energy. The color red used in the logo stand for strength, vigor, vitality, aggressiveness and speed. The yellow signifies emotions, excellence as well as grandeur. The logo design, as a wholesome, stands for sheer speed, risk-taking courage, power, aggressiveness and intelligence. And, such are the attributes the drink claims to give the people who drink it. 
Sporty, dancing, singing bull in red..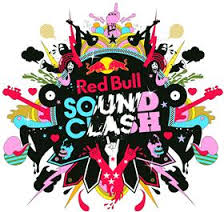 Sports, games, art, adventure, dance and music, Red Bull get engaged with all sorts of youthfulness. It inspires all that pump energy into action. With magnificent men and women on action across the globe, the world of Red Bull is super dynamic, energy filled and colorful round the year. The brand's supreme- success story is weaved on the brand marketing strategy. Through these engaging events, Red Bull develop a powerful engagement with audience, that transform into their strong marketing tool. Though there are numerous imitators with energetic names for 'energy drinks' none could come near Red Bull in it's most prominent niche position in it's eventful space. 
Few facts about Red Bull:
The guy who  introduced Red Bull to the world, Dietrich Mateschitz is now the richest man in Austria.
Above 50 Billion cans of Red Bull have been sold so far through last 27 years of the brand.
Red Bull owns many sports teams, which includes the 4 football teams namely; Red Bull Brazil, New York Red Bull, Red Bull Leipzig &  Red Bull Salzburg and Austrian Formula One car racing team.
There are no secret ingredients in Red Bull and  all it's contents are listed on the can. The drink consists of a mixture of Taurine, Caffeine, Sucrose, Glucose, B-Group Vitamins and Alpine Spring Water.
In addition to the regular Red Bull, the brand has introduced different flavors of cranberry, blueberry and lime called as "Red Bull Red Edition", "Red Bull Blue Edition" and "Red Bull Silver Edition", but these flavors are available only in Austria. 
Red Bull Timeline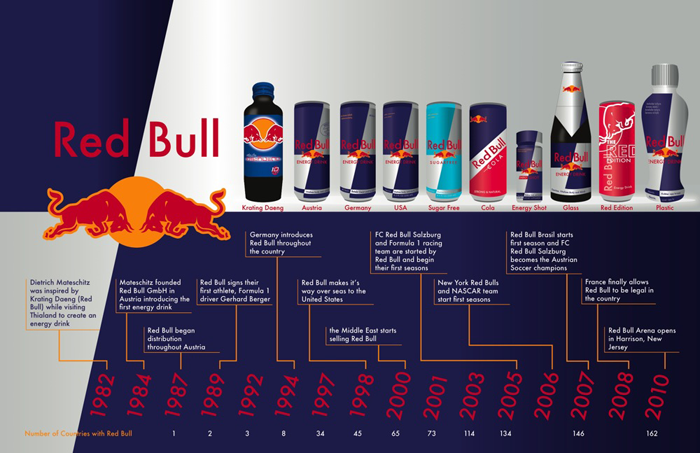 Finally, Red Bull place itself in a niche, monopolized space in it's world of energy drinks that quench the thirst for energy with it's utmost youthful brand identity. What made this brand so special? An uncanny marketing strategy that made the drink popular among teens and adults who love extreme sports and live life at the edge. The sporting bull has everything going for it. It does give you the wings to imagine and fly around your wonder world.
"The Red Bull gives you wings!" Aim high to fly high!
All Intellectual Properties referred on this website are absolutely owned by their respective owners.