When the summer is wearing a cap and sipping your energy, don't you wish to refresh? Well, though everyone hates summers, but have to bear it. To forget about the tiresome heat, one cool option is an ice cream. Today it isn't just about an ice cream, but about Baskin Robbins, that surprises the delicate senses of your tongue.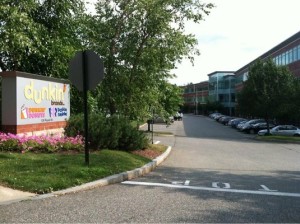 What do you see in the Baskin Robbins logo? Writing in pink and blue and big  'BR' in between? Well, there is more. The unique features that make the motif more alluring and creative are the hidden meanings embedded in it. When was the last time you saw a logo and felt aww? Let's find the cherry on the scoop. This widely recognized logo of the Baskin Robbins brand has an adorable history behind it. Having headquartered at Massachusetts, United States, Baskin Robbins boasts about itself for being recognized as worlds largest ice cream chain with more than 7300 locations globally. 
The ice cream makers of the world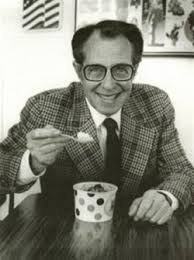 Irvine Robbins, a Canadian by birth, came out of army during World War II . On December 7th of 1945, days before Christmas, he opened a small ice cream store namely 'Snowbird Ice Cream Store' in Glendale of California.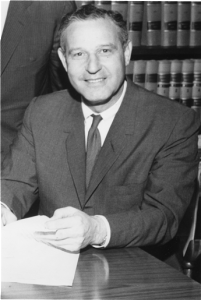 While Burt Baskin who married Irvine's sister Shirley owned a men's store in Chicago. Burt was into navy and was released in few years of service. He soon came to California. Irvine convinced Burt that selling ice creams is more propitious and fun than selling ties and trousers to men. In couple of months, at 561 Lake Pasadena, California, Burt opened 'Bruton's Ice Cream' Store.
Both the young entrepreneurs dynamically spread their own home-flavors, and by 1948 there were five Snowbird stores and three Burton's stores. These awesome guys started finding it difficult to manage stores independently. 
That's when Baskin Robbins took shape. Baskin Robbins is the first firm in food industry that has franchised its outlets. An innovative ice cream brand to grow globally became a daily dream of two brother-in-laws. They wanted their store to be the gathering destination of families, friends and people walking by. Burton Baskin nick named Burt and Irvine Robbins nick named Irv had a platonic love for preparing flavored ice creams using variant ingredients. During 1945 the two separate identities of Burton's 'Burt's Ice Cream Store' and Robbins 'Snowbird Ice Cream Store' joined together and established the brand 'Baskin Robbins' with it's first store in Canton, Massachusetts. While finalizing the brand name, the two men flipped a coin to see whose name would come first at the shop's signboard. Baskin won the toss and the brand "Baskin Robbins" was born.
During 1949 and 1962, the firm owning the brand "Baskin Robbins" was named as Huntington Ice Cream Company. Later it succeeded to 'The Baskin-Robbins Partnership'. Eventually the name changed to Baskin Robbins, Inc. on 26th November, 1962. Now, the brand is a part of Dunkin Brands Group, Canton, USA.
1953: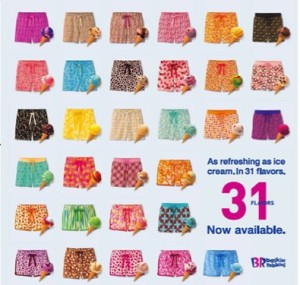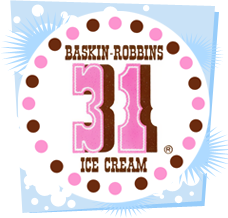 It was in the year 1953, the ice cream firm came up with a unique creative concept in the market. A local advertising agency, Carson Roberts, advised them to have a uniform identity and image under the name "Baskin-Robbins 31" Ice Cream. They also suggested "31" logo as a highlight of the signboards at their stores. Pink (for Cherry) and Brown (fo) polka dots were there in the brand presentations to represent festivals and fun to bring their flavors alive with delicious ingredients.

This iconic trademark of the pink spoon was created by Baskin Robbins with a courteous idea that the ice-cream lovers can try any of their many flavors without any cost. People not just loved it, but applauded it for so long.


This '31' is the hidden number in the Baskin Robbins logo. Did you find it? It is just between the two words, Baskin and Robins. Cool, isn't it? All like you and me have first seen the logo wondered, why 31? what 31?
Baskin Robins always wanted a long term relationship with it's ice cream lovers. 31 stands for 31 flavors, 31 flavors are for every day of a month. Wow! Yes, you heard it right; a flavor every day was the concept. Now don't think clever by putting up a question Why wait 31 days to taste all 31 flavors? One day one can galloped all the 31 scoops of 31 ice creams in just 31 minutes. However, The firm came up with thirty one unique flavors of ice creams, each day of the month has a new flavor to rejoice.
The colors used in the logo have a meaning too. The pink embodies and encourages people to taste samples of its flavors that comes out in a very frequent fashion. The white and blue depict elegance, reliability and purity the brand follows in making of it's the ice creams.
In 1953, Carson Roberts, which is now the world-famous-advertising-agency 'Ogilvy & Mather', created the first Baskin Robbins logo with the number 31. It is at the advertising agency's desk, the idea of 31 sprouted. A slogan was introduced to add a sweet touch to the campaign, "Count the flavors, where flavor counts".
2005: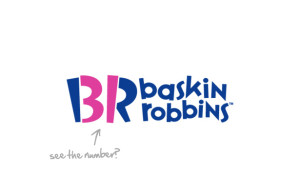 As time went on, more than thousand flavors were invented but the appearance of '31' still stay in the logo. Though during 2005, on the firms 60th anniversary of the brand, their brand identity was re-defined with a new design, but the  highlight of '31' was made more projective. The new logo not just attracted many people, it added to the delicious flavors and excited their taste buds around the world. 
Baskin Robbins has a place in Guinness World Records for the biggest ever ice cream cup made. It was created during September 2005 to celebrate the firm's 60thbirthday. The biggest ever ice cream cup weighted 8865 pounds. 
This old family business has expanded their territories to over fifty countries around the world. The locations of Baskin Robbins features incredible flavors to allure the taste buds.
Isn't the brand of Baskin Robbins and the hidden '31' leave a yummy feel in your heart and a smile on your face? Go out in summer for a reason to melt! or waiting for monsoon to wet? 
All Intellectual Properties referred on this website are absolutely owned by their respective owners.