I want to write about a grand and glorious macrocosm brand this time. What would I write about?
About the star that dazzles best on the black roads?
What was turned-out as a breakthrough in experiment sets the standards for every car on the road!
It's about inventions that change the way we move from place to place. It's all about developing a world-over industry that millions live with and billions love to be living in with.
With an ongoing race of first in performance, driving enjoyment and safety, it's an ever more exciting road-map to the future. In the crowd of variant makes on the road, the Mercedes star shines with grace. Have you ever wondered what Mercedes-Benzs 3-Pointed Star really stands for? Or where it came from? Let's find out how the 'Mercedes star' was born. 
Innovation is the beginning
Karl Friedrich Benz                                        Bertha Ringer Benz
Karl Friedrich Benz was born in 1844 in a city called Karlsruche in southwest Germany. He lost his father in his childhood and was brought up by his mother. At the age of 20, he became a graduate in Mechanical Engineering from the University of Karlsruche. 
The story of the first mechanical car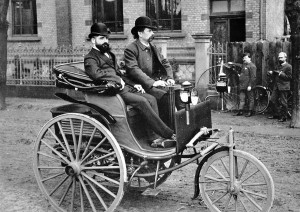 In that age of horse-carts, Karl Benz wanted to make a mechanically-operated vehicle. He joined hands with Bertha Ringer Benz to establish the firm. Bertha was Karl's wife and business partner for his experiments. Initial trials of Karl Benz to create a mechanical carriage did not succeed. The motor-run-carts developed by Karl on the first go hit the wall and collapsed without coming under control. 
<first model of the car was a three wheeler
Karl Benz's love towards machines made him join hands with a bicycle dealers Max Rose and Friedrich Essliner into a partnership and founded Benz & Company Rheinische Gasmotoren-Fabrik (Benz & Cie.) in 1883 to produce industrial machines and gas engines.
Finally, Karl Benz built 3 prototypes of his dream mechanical car. He was granted with his first patent of the engine in 1879. Later in 1885 he also received a patent for the first automobile titled as 'Benz Patent Motorwagen' for 'Automobile fueled by gas'. The years ahead witnessed the true inventor in Karl Benz with the path-breaking patented inventions of speed regulator, electric ignition using sparks with battery, spark plug, carburetor, water radiator and gear-shift which became the structural-standards for the automobile industry for the years to come.
During that period, many experiments were happening in different parts of the world to develop a self- powered car. But, as we learned, Karl Benz is considered as the inventor of petrol fueled automobile as the car developed by him was practical and was with a combustion engine, fueled with petrol or gasoline, similar to the cars of modern age.
Worlds first road-trip by automobile 
Couple of years passed after Karl Benz invented the car, the genius engineer Karl made it better over the time but it had not got into the public as the car may have driven for few meters at a stretch. The need of the hour was to publicize the vehicle for commercialization. It was in the first week of August 1888, Bertha Ringer Benz took the world by storm when she took one of her husbands cars on road for a long drive. Taking her 2 children along with, from Mannheim, Bertha drove the car straight to her mothers house in Pforzheim, a southwest town in Germany. On the way, the brave lady repaired the car by herself and even re-fueled it  It was a rusty, rough ride on the rocky roads, but finally they reached her mothers home towards the late evening by crossing 60 miles in less than 12 hours. Bertha sent a telegram to Karl informing of their successful journey by his invention. While returning after a day, Bertha took her car through a different route which attracted the publicity for Karl Benzs car establishing it as a useful invention to public. That was the world's first long-distance journey by automobile. The news about Berthas car journey gave Benz a big marketing push in the times ahead.
Honoring Berthas courage, conviction and contribution, an automobile rally is conducted today in the same route that Bertha drove her first car journey. 'Bertha Benz Memorial Route' in Germany has been officially acclaimed as a 'Route of industrial heritage of mankind'.
Benz further had a growth story to unwind. Demand for it's car and the industry supply of it's compact engine scored new heights. During the year 1899, with 572 units produced, Benz became the largest automobile company in the world. 
So far we talk about the making of the product for the brand 'Benz". To know the roots of the brand 'Mercedes Benz', one has to unwind about another early player from Germany in the automobile world during the same period; Daimler-Motoren-Gesellschaft (DMG).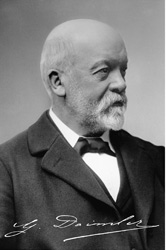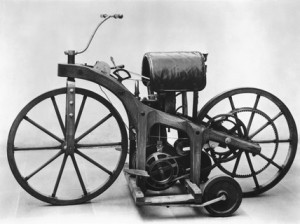 <Gottlieb Daimler & his first motorcycle
Born in Schorndorf town of Germany on 17 March 1834, started working as a gunsmith at an early age of 14, furthering the technical education from Stuttgart Polytechnic and thereon working in the field of Mechanical Engineering in France and England till 1863, Gottlieb Daimler became more inquisitive to develop a motor-run car. Daimler along with his friend, business partner and designer by profession, Wilhelm Maybach had a common dream to develop a compact and efficient engine which can be mounted on any kind of locomotion; be it a bike, car or boat. During 1882, Daimler set up a workshop in the garden of his house and towards the end of 1883 he had developed a high-speed internal combustion engine. And, by 1885, Daimler's very first car developed in companionship with Wilhelm Maybach, was a motorcycle that could ride at a speed of 12km/hour.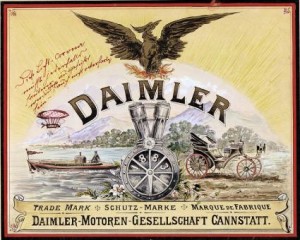 Being an active part of innovation and industrial growth, another firm was formed by Gottlieb Daimler and Wilhelm Maybach in 1890 by the name Daimler-Motoren-Gesellschaft (DMG) ['Daimler Motors Corporation' in English].
Initially the company name itself was used as the trademark. Besides is a DMG design showing an engine with brand-name 'Daimler' arching above, and at top the motif a mythical phoenix bird. 
Towards the end of 18th century, a new industry for automobiles got forged, resulting into far-flung experiments across the world to create a feasible car. However, the high-speed, petrol-powered combustion engine developed by Daimler received a wide acceptance from the then emerging automotive industry in Europe. A notable turn-around took place for Daimler during the first international car race; the Paris to Rouen 125 km car race, organized in 1894 . While 100 plus cars came for the race to participate, 9 out of 15 cars who could finish the race were powered by Daimler engines. In the year 1896, Daimler produced the first truck which run on road successfully. And, in 1900 the company produced the first 'Mercedes' car, and rest is the history making winning story of the giant brand. 
How the Brand Name 'Mercedes' was derived?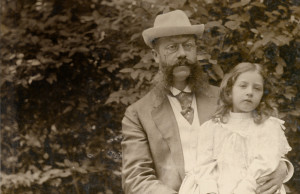 Emil Jellinek was an Austrian-born business man from Nice region of France. During 1897, he had visited Daimler factory in Germany and acquired a franchise to sell the Daimler cars in different countries. He wanted to brand those cars under the name of his beloved daughter "Mercedes" and Gottlieb Daimler was happy to do that. That was the first instance the brand name 'Mercedes' was made for cars. 'Mercedes' in Spanish means 'grace'.
World's two original car companies, Daimler-Motoren-Gesellschaft (DMG) and Benz & Cie. merged in 1926 to create one of the world's most admired automobile brand- 'Mercedes Benz'. And, the story is historic.
It's a rich long story, the brand 'Mercedes-Benz' holds. Brand story of 'Mercedes-Benz' shall continue through our coming blog post next week..
Till then, good bye! take care!
 All Intellectual Properties referred on this website are absolutely owned by their respective owners.