When you think of a world class brand for fashion freaks, what comes in your mind? Plenty of photographs and articles published in lifestyle magazines, sensual models parading amazing cloths on catwalk, advertising in posh locations… what not to penetrate the brand into the elite segment of the market. At least all of it comes under marketing of a world class brand, isn't? But think of 'Zara', nothing comes in mind except that we know only the royals wear it. Just because Zara has no advertising campaigns, but its success is not behind. Apart from their simple yet majestic logo, they have their secret marketing tool.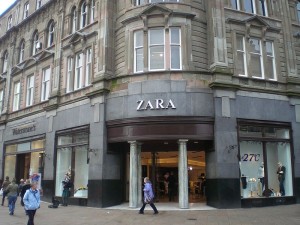 Who changed the face of fashion during 70s? It was a humble store, tucked away in a serene region of Spain. The brand that soon became a success story was named Zara. The ubiquitous brand is one of the biggest chain of fashion retailers today. Zara is based in a picturesque region of Spain which is located away from Madrid and Barcelona. Inditex (Industria de Diseño Textil), a Spanish fashion company headquartered in Arteixo, Spain, owns 'Zara', the famous fashion clothing brand.
So, how did the company come up with an out-of-the-blue-name like Zara? How is the company still going strong when Spain is hanging on a thin rope of economic catastrophe? Let's read Zara, your questions will be answered in a wink.
Who set the ball rolling for Zara?
The high-street label 'Zara' came into existence not after it was founded by a sultry Spanish senorita, but by a Greek man with humble qualities. He is none other than the 4th richest man on planet earth, Amancio Ortego. Okay, so you have never heard of this man, because he is a true recluse who went on to define the world of fashion with it's world class products and service, and not engaging in anything else.
The man behind Zara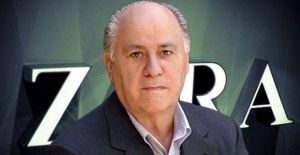 (Signature of the founder Amancio Ortego)
Ortega opened his first store in 1975 in a central street located in La Coruña, Galicia, Spain. This is the same rainy, economically weak town of Spain, where he has lived since his birth. Amancio Ortego was the son of a humble railway worker. He worked with a local tailor's shop at the age of 14 to support his family. His first colleague was Jose Martinez, who at the age of 77 still could be found working at the same shop called Gala.
This great entrepreneur  always keep his profile low. Ortega is an active member of the design and production of this huge firm. Till 1999 not a single photograph of Ortega was ever published. His monotonous day all along the years started with a 'hi' to the same coffee shop. He even refused to use a tie and carries a simple blue blazer uniform, gray pants and a white shirt every day. It was in 2011 he announced his retirement from the parent company of Zara, that is, Inditex.
Why the name 'ZARA'?
During 1975, Ortego first called his new store 'ZORBA'. The movie 'Zorba the Greek' inspired him so much that he named his store 'ZORBA'. However, there was a bar, two blocks away with the name 'Zorba'. The owner of the bar came over to Ortega and said, 'This is going to confuse things to have two Zorbas on the same street. The Brand Displays for 'ZORBA' for the new store were already made by Ortego. Those days, creating a whole new signboard was a task for Ortego and company. They decided to rearrange the letters and come up with a new name. Thus, the name 'Zara' was created out of 'Zorba'. As it was easy to make a single letter 'A' and create  'ZARA'out of the billboards of 'ZORBA'.
ZARA secret of success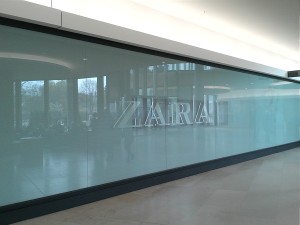 The first secret lies in the luxury of their stores that are located in the busiest and strategic locations in the cities. Their big windows do the advertising for window-shoppers. The most famous and the eye catching merchandising Zara follows at their windows do the publicity. You can witness the ultimate trends of fashion through them.
The zero advertising strategy has worked for a huge brand like Zara. They have no great advertising campaigns. Zara is a fashion house that comes with an affordable price tag. It continues to open new stores around the world and rule the fashion world. Instead, it focuses on giving the best to it's high-end customers. Yet, it has marked its presence through 6500 stores in some of the major cities across 88 countries around the world. Through it has widely networked stores, the brand earns more clients by goodwill. If you don't believe me, look at the future Queen in the making.Kate Middleton, also having her royal title of 'The Duchess of Cambridge' is the wife of Prince William and a member of the British Royal family.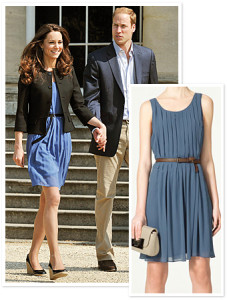 Kate Middleton loves to wear a Zara. No wonder they don't need to spend on advertisements, when you have Royals who model your clothes in their exquisite lives' stage!
Design elements of Zara logo

(Early brand display)

(Later design )
The design of the brand 'Zara' is simply simple. It has a powerful and elegant appeal that helps it create a visually distinct appearance. The simple design has the letters written in capital case. Initially, the alphabets were placed closer together and they appeared taller. Around June 2010, the words were placed at a distance and they look shorter, but artistic. The black color of the font gives a feel of style, supremacy and distinct elegance of this luxury brand.
Few amazing facts about Zara:
The parent company of Zara, Inditex is the largest retailer for apparels in the whole world.
Yes! a highlight you ought to know, Zara is not pronounced 'Zah-rah' in Spain though it's pronounced as such in Britain. It is pronounced as 'T

harah

' in Spanish. So, when in Spain do not go hunting for a 'Zha-rah' store, instead ask for a ''T

harah

'' store.

It is quite surprising to note there are just a few Zara stores in US and Canada.

The Zara headquarters in Spain designs and manufactures new designs by understanding the ever-changing tastes of their customers in every 2 weeks! Through such frequent product introductions, they launch about 12,000 new designs a year.

Zara has even gone on to do their bit for the environment. They have signed the Greenpeace Zero-Discharge Commitment and vowed to eliminate hazardous chemicals used in production by 2020. They also use solar panels and wind turbines to charge up their headquarters in A Coruna. That's being richly responsible.
While you read this blog, the team Zara would be busy understanding the customer needs, designing the new attractions and introducing them on the world stage of fashion.. 1000 kudos to the Zara team worldwide! 
All Intellectual Properties referred on this website are absolutely owned by their respective owners.